Palm BJJ, located in Saginaw is home to the Great Lake Bay Region's first Brazilian JiuJitsu black belts!
Thursday April 21st, 2016 Professor Daniel Alvarez a Saginaw native who owns Alvarez
Brazilian JiuJitsu, one of the largest and most successful schools in Arlington Texas, promoted the TriCities first black belts in the art of Brazilian JiuJitsu. Professor Alvarez is a multiple time Brazilian JiuJitsu world champion.
Terry Moon and Roy Smith received their black belts from Professor Alvarez on Thursday.
Moon and Smith train at Palm BJJ, a Brazilian JiuJitsu school owned and ran by Carl Rabideau who is also a multiple tournament champion who took Gold in the Dallas open in 2014. 
Palm BJJ is located 3365 Freeland Rd in Saginaw, near SVSU and has classes for adults and children.
Brazilian Jiu Jitsu is a martial art that was brought to fame by Royce Gracie in the early Ultimate
Fighting Championships where Royce Gracie took on competitors from various martial arts
backgrounds who were all much larger than him. Royce Gracie defeated all his adversaries and
put an exclamation point on the effectiveness of Brazilian Jiu Jitsu showing that leverage and
technique could defeat size, speed and strength. Jiu Jitsu is a martial art that can be used
effectively by any man, woman or child despite their size or athletic ability making it the most
effective martial art in the world.
Terry Moon who is 49 years old said he is in better shape than he was in his 20's.
"The workouts, atmosphere and teammates at Palm are all incredible." said Moon who trains
regularly 4-5 times per week at Palm.
Those feelings were echo'd by Smith who also said the level of instruction and training is the
best in the area.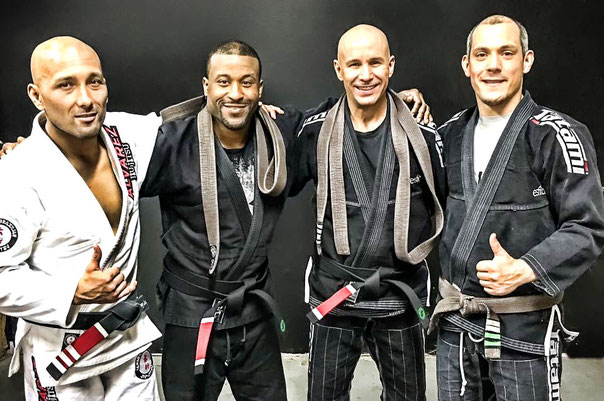 Pictured are, from left to right: Daniel Alvarez, Roy Smith, Terry Moon, and Carl Rabideau.
---
February 2015
SAGINAW—Palm Brazilian Jiu Jitsu, located in Saginaw, continues to accumulate awards.  This past Saturday at the Modern Flow Brazilian Jiu Jitsu tournament in Dearborn Heights, Palm collected six gold medals at the hotly contested event.
Coach Carl Rabideau led the charge taking double gold medals in both his brown belt weight class and the absolute divisions. Absolute competitions are based on belt rank, but open to anyone regardless of weight.  Rabideau's wins further solidify his status as one of the top grapplers in the state and region.
In addition, division gold medals were won by Eric Rolston (blue belt), Will Pennell (white belt) and Mike Fitzgerald (white belt). Lauren LaCourse  took bronze in her white belt weight division but came back to win gold in her absolute bracket.
Rabideau couldn't help but share his excitement with the successes of the team.  "I could not be more proud of not only those who got to stand on the podium, but also to those who helped us get there," he said.  While the competitors on the team were center-stage Saturday, Coach Rabideau emphasized the collective work ethic of all those at Palm BJJ.  "Our accomplishments can be credited to our ability to work as a unit towards a shared goal. We all embrace the hard work associated with this lofty goal."
Professor Danny Alvarez, who ranks the Palm BJJ team, echoed Rabideau's statements. "I tell my team all the time that 'without struggle there is no progress.  (Coach) Carl and the Palm BJJ crew succeeds because they work, learn and struggle together."   The team, collectively, finished in second place in the overall adult division Saturday, despite having only five individual competitors.     
Palm BJJ is an affiliate of multiple time Black Belt world champion Danny Alvarez of Arlington, Texas.  Alvarez, originally from Saginaw, ranks each member of the Palm BJJ team based on the standards of the International Brazilian Jiu Jitsu Federation.  The academy is open to all interested students including adults and children.  For more information, visit PalmBJJ.com
---
October 2014
Mid-Michigan is earning a place on the Brazilian Jiu Jitsu map, largely due to the efforts of Carl Rabideau. Recently Rabideau, the owner of Palm BJJ in Saginaw, competed in International Brazilian Jiu Jitsu Federation's Dallas Open. He didn't just compete against some of the best fighters in the world, Rabideau was able to successfully capture the purple belt middleweight gold medal. With more than 800 fighters challenging at the Dallas Open, Rabideau was able to set himself apart amongst the elite level talent.
Bringing the championship back to Saginaw is significant to Rabideau. He is quick to express that his accomplishments were not individual, however.
"I would not be anywhere near where I am now if it was not for so many people helping me get there," he said. "I've done Jiu Jitsu for a long time, but it wasn't until I got the right coach, the right training partners, and the right supporting family and friends that I was able to truly start progressing towards my goals."
Those training partners are quick to acknowledge the sacrifices of their coach and leader. Roy Smith, a longtime training partner of Rabideau, points to his dedication.
"This accomplishment shows that hard work pays off. When you see (Carl) on the mat six days a week, you understand why he is able to achieve his goals," Smith said.
Terry Moon, a member of Palm BJJ, echoed Smith's comments, "He (Rabideau) builds such an atmosphere of excellence and attention to detail. It is reflected in everyone on the team."
Rabideau's coach, Professor Danny Alvarez reflected in belt color ranking. A brown belt is the step before the black belt, the traditional reflection of mastery level. A BJJ black belt, on average, is earned after approximately 10 years of consistent training.
While still relatively new, Rabideau's Palm BJJ has developed a great reputation. Jiu Jitsu is a martial art centered around the concepts of self-defense, leverage and balance. Practioners train in ways to submit opponents through chokes, joint locks and, in competition, through a series of point-based maneuvers. Brazilian Jiu JItsu, known as BJJ, gained familiarity with the public through its use in mixed martial arts contests such as the UFC.
Palm BJJ offers a variety of classes for all levels of practioner, from children, beginner to advanced competitors. Every day of the week, athletes between the ages of 5 and 50 learn some of the same strategies Rabideau himself used to capture gold this past weekend. For more information, visit the website at www.palmbjj.com.